Why SGA?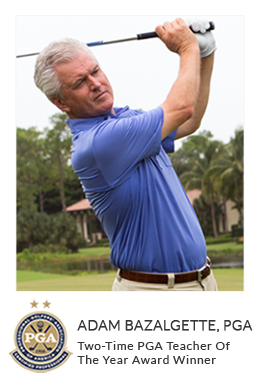 I founded SGA (Scratch Golf Academy) after nearly 30 years of teaching golf full time. I was blessed to be personally coached and guided by many of the best minds in golf from David Leadbetter, Wayne DeFrancesco, Bennett & Plummer, to putting gurus Todd Sones, Mike Shannon, and Marius Filmalter, as well as top fitness and mental coaches.

Over the years, I gained a pretty thorough understanding of technique, but my students didn't see the kind of consistent progress they wanted and deserved.

A few years ago I began to be mentored by some experts in learning, especially Fred Shoemaker (author of Extraordinary Golf & Extraordinary Putting). Mike Hebron (former PGA National Teacher of the Year), and Steven Yellin (founder of Fluid Motion Factor) also kindly helped guide me.

The education I received from them really shifted the effectiveness of my teaching and brought excitement to me and my students. I realized that although technical knowledge is a must, just giving tips in the form of how to formulas didn't really help people.

Instead, the job of the coach is to give clear concepts, then partner with the student to help them feel their own swing. Less thinking and more 'quiet minded awareness' paves the way for real progress and enjoyment.

In the video lessons I teach here at Scratch Golf Academy, I've tried to draw from my experience and give you the simple keys and concepts that have most resonated with the thousands of students I have been lucky to teach and learn from.

I sincerely hope you find these videos helpful in your journey to better and more satisfying golf.


UNLOCK 10 FREE VIDEO LESSONS NOW