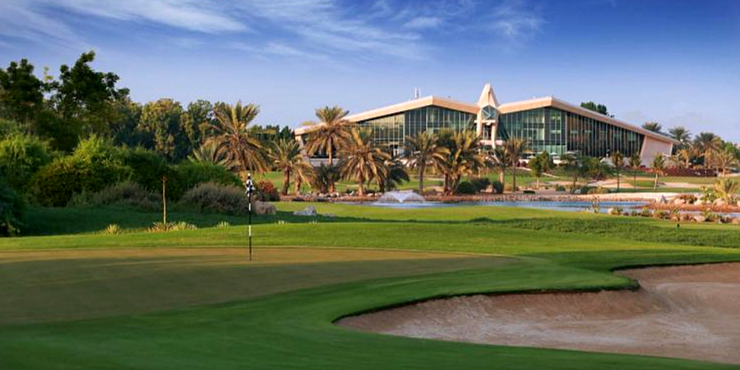 Welcome to our preview of the Abu Dhabi HSBC Golf Championship 2018 edition.
In this week's preview, Dustin Johnson tries to continue his early season form, Rory McIlroy returns from injury, Tommy Fleetwood tries to defend his 2017 title, and many other world-class players try to pick up an early season win at one of the European Tour's premier events.
2018 FedEx Cup Standings
While this is a European Tour event (and thus FedEx Cup points are not awarded this week), we know that a lot of our readers keep up with the 2018 FedEx Cup Standings week by week.
Below are the most up to date rankings: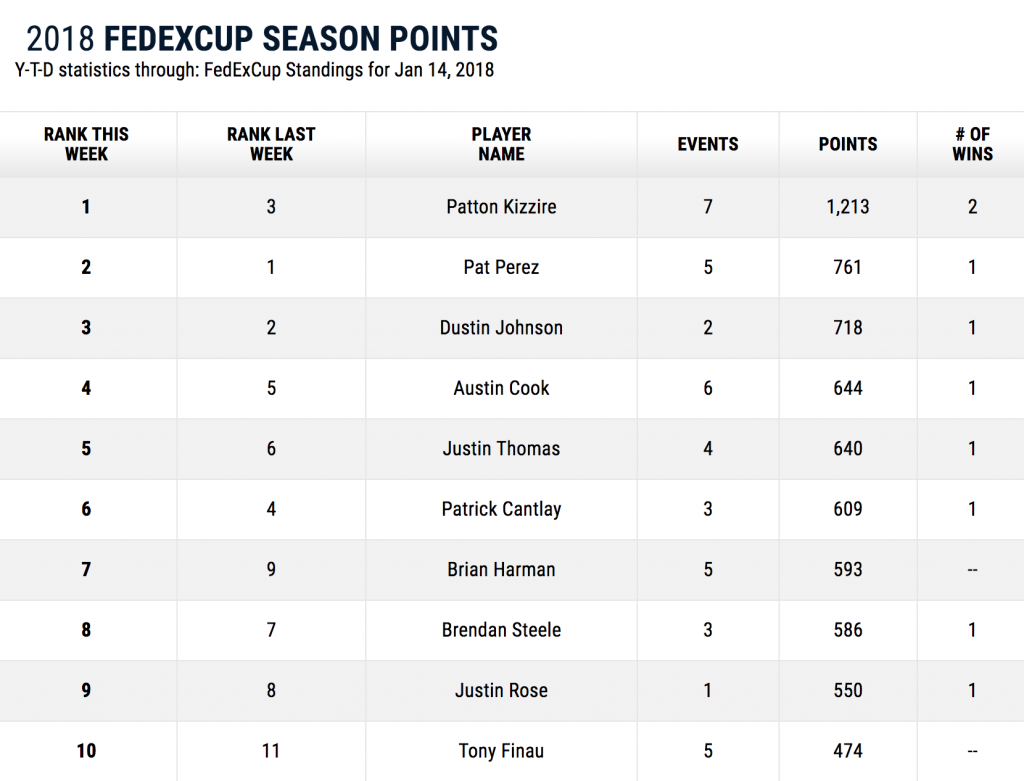 A few notes on the current rankings:
Patton Kizzire: First Multi Winner of the Year
31-year old Patton Kizzire has taken over the top spot in a breakout year. Before this year, Kizzire was a relatively unknown player, although people "inside the ropes" have been saying for a few years now just how talented this guy is.
As the first two-time winner in 2018, he's already secured his PGA Tour card for next year and made a nice chunk of change for himself. We predict a big year for Kizzire, and don't be shocked to see his name on a major championship leaderboard at some point heading into Sunday this year.
Pat Perez Drops from First to Second
We mentioned last week that at age 41 Pat Perez is having a career year. While Perez dropped a spot in the 2018 FedEx Cup standings, he's still in the best position of his career.
Dustin Johnson Rounds Out the Top 3
We'll go ahead and call it, barring any bizarre injuries (like his slip and fall injury the night before the 2017 Masters), Dustin Johnson is our favorite to win the FedEx Cup, as well as player of the year.
Sure, Johnson is in the 3rd spot currently, but it won't be long before he's battling it out for the top spot with the likes of Justin Thomas, Jordan Spieth, and hopefully a rejuvenated Jason Day & Rory McIlroy.
Race to Dubai 2018 Rankings
For those of you who aren't familiar, the "Race to Dubai" is essentially the European Tour's version of the FedEx Cup. While the FedEx Cup champion gets a $10 million dollar prize, the Race to Dubai winner gets a cool $1.25 million.
Not quite FedEx Cup Money, but the Race to Dubai payout isn't too shabby! The 2017 Champion was Tommy Fleetwood, who currently rankings 16th in this year's race. With the Race to Dubai having a total purse of $5 million dollars, it's certainly something to keep an eye on.
Here are the current Race to Dubai rankings for 2018: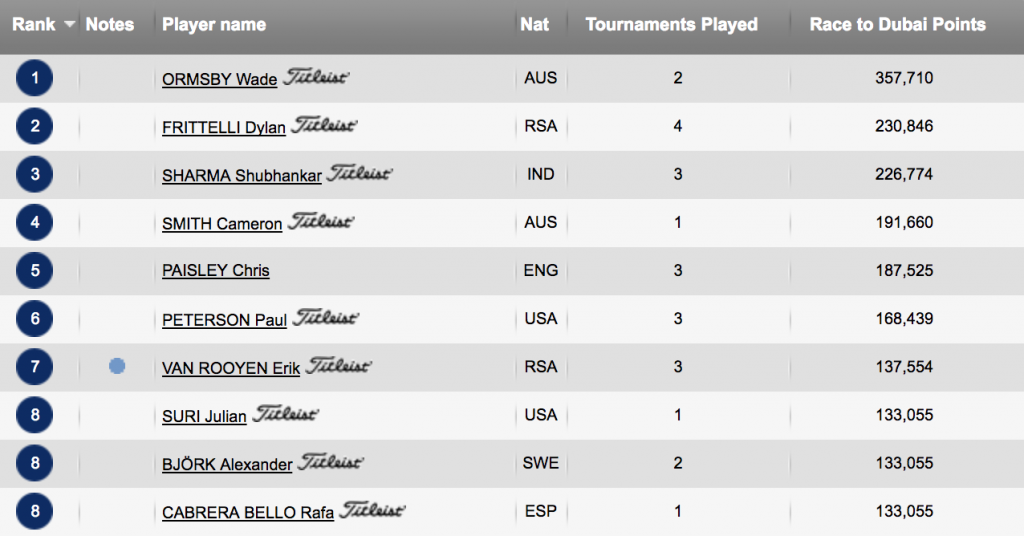 Rory McIlroy at the Abu Dhabi HSBC Golf Championship
Rory McIlroy starts his bid at a big year at the 2018 Abu Dhabi Golf Championship.
Former #1 in the world and heir apparent to Tiger Woods, McIlroy hasn't won a golf tournament in 16 months and has failed to capture a major since the 2014 PGA Championship.
Most experts agree that McIlroy (along with Dustin Johnson) is probably one of the two most physically gifted players in the game, and when they're firing on all cylinders, these two are all but impossible to beat.
Based on that, you may think that we're picking McIlroy as a favorite this week, but given the inevitable "rust" that will show up in his game after a long layoff, he didn't quite make our cut for the top 5.
So what are Rory McIlroy's Abu Dhabi HSBC Golf Championship chances? Your guess is as good as ours!
HSBC Golf Tournament Field: Our Top 5 Favorites & Predictions
The 2018 HSBC golf tournament field is set. While there are a lot of great players in the field this week (which made creating this favorites list quite difficult), Here are our top 5 picks for this weeks championship:
#5: Paul Casey
It doesn't seem possible that Paul Casey is 40 years old, I mean the guy looks like he's 28 and is in phenomenal shape.
Casey is a 13-time European Tour winner, with his last victory coming at the 2014 KLM Open. That being said, he's had many close calls on both the European and PGA tours over the last 18 months, and we wouldn't be surprised to see Casey finally break through and end his victory drought.
#4: Tommy Fleetwood
Tommy Fleetwood comes to the Abu Dhabi HSBC Golf Championship in 2018 hoping for a repeat of 2017, where he won the tournament, edging out Dustin Johnson by a single shot.
Fleetwood last played at Tiger Wood's event in the Bahamas (the 2017 Hero World Challenge), finishing in third.
#3: Justin Rose
Justin Rose is currently 6th in the official world golf ranking. That makes him the highest ranked player in the field, aside from world #1 Dustin Johnson.
Anytime Rose tees it up on a course where ball-striking is paramount, he's a legitimate threat to take home the trophy.
#2: Henrik Stenson
As one of the top-ranked players in the world (currently 9th), Stenson is certainly one of the biggest threats in this years HSBC golf tournament field to take home the trophy.
In fact, just last year he finished T-8th, only four shots behind winner Tommy Fleetwood.
#1: Dustin Johnson
If anyone has an argument with Dustin Johnson as our #1 pick, we just have one question:
Did you see how he absolutely annihilated the field two weeks ago at the Tournament of Champions in Kapalua? After that 8 shot victory, I'm not sure that we can pick anyone else.
While DJ certainly has a long way to go to get anywhere near Tiger level dominance in the early 2000s, picking him these days seems like a pretty safe bet. If he shows up with his B+ game, he's probably going to win.
Sure, nothing is guaranteed, but we like his chances.
HSBC Golf Tournament 2018 Tee Times
What we've done is listed the 2018 HSBC golf tournament tee times for the feature groupings. All tee times are local time GMT +04:00:
07:30 Justin Rose, Henrik Stenson, Matt Kuchar (10th tee)
07:40 Tommy Fleetwood, Rory Mcilroy, Dustin Johnson (10th tee)
11:55 Tyrell Hatton, Paul Casey, Lee Westwood (1st tee)
12:15 Branden Grace, Martin Kaymer, Bernd Wiesberger (1st tee)
For a full field list of tee times, you can click the link below:
http://www.europeantour.com/europeantour/season=2018/tournamentid=2018008/teetimes/index.html
Abu Dhabi HSBC Golf Championship Prize Money
We'll get to the HSBC golf championship purse shortly, but one thing that always raises eyebrows in the eyes of golf purists are the appearance fees that are paid each year at this tournament, and 2018 is no different.
In fact, it's estimated that the appearance fees alone for the HSBC championship in 2018 will hit $6 million. While how much each player receives isn't disclosed, it has been reported that Dustin Johnson will get $1.75 million just for showing up.
Good for Dustin…
As far as the official HSBC Golf Championship prize money is concerned, the total purse is just over $3,000,000 with the winner taking home over $500,000.
TV Schedule for the 2018 Abu Dhabi HSBC Golf Championship
The TV coverage is as follows (all times EST):
Thursday: 10:30pm – 3:30am (with coverage re-airing)
Friday: 3:30am -8:00am (with coverage re-airing)
Saturday: 3:30 – 8:00 am (with coverage re-airing)
Sunday: 3:30 – 8:00 am (with coverage re-airing)
If you're in the United States and you don't want to wake up at 3:30 in the morning to watch the Abu Dhabi HSBC Golf Championship's 2018 edition, you don't have to. The Golf Channel is re-airing coverage after the conclusion of play each morning.