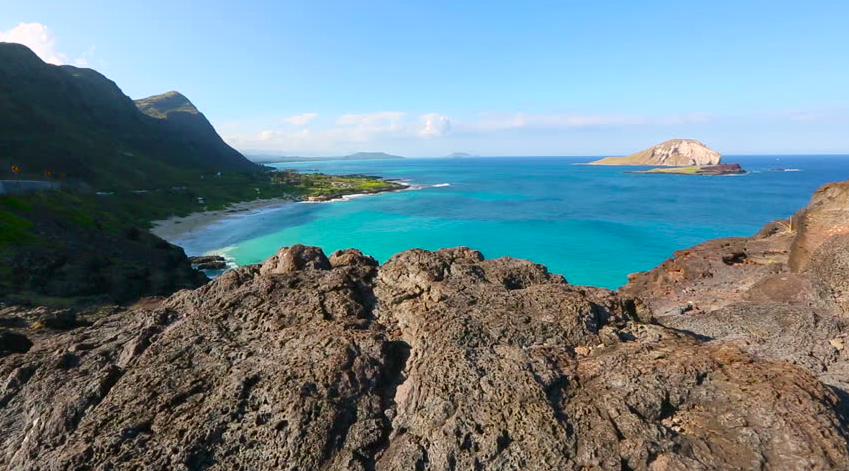 While many areas of the U.S. right now are experiencing icy cold temperatures that would make even a polar bear want to grab a sweater, the boys are teeing it up this week at the beautiful Waialae Golf Course on Oahu (with an average high of 81 degrees, I might add).
While Dustin Johnson is giving the rest of the guys a break by taking the week off (after a whopping 8 shot victory last week at the Sentry Tournament of Champions), several players will make the quick trip from Maui to Oahu in hopes of capturing a victory in paradise.
About Waialae Country Club
Waialae was designed in 1927 by Seth Raynor and plays as a par 70 for the pros (it's a par 72 day in and day out for the members).
It has hosted the Sony Open since 1965 (originally known as the Hawaii Open).
The course record is 59, which was set by Justin Thomas in the 1st round of 2017. The lowest score in the tournament's history is 253 (-27 under), which was also set by Thomas in last year's edition of the tournament.
Current FedEx Cup Standings
Here's a snapshot of current top 10 in the FedEx Cup standings from PGATour.com: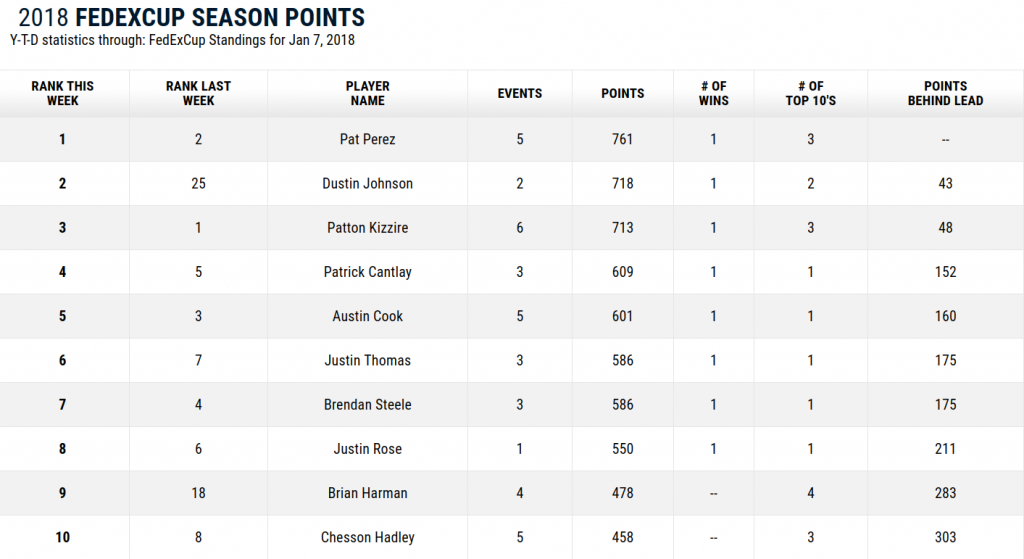 DJ Moves into the 2nd Position, While Perez Remains in the Top Spot
After an incredible week, Dustin Johnson moves all the way from 25th to 2nd in the FedEx Cup season points race. 41-year-old Pat Perez continues to play the best golf of his career, holding down the top spot.
Over the weekend at the Sentry Tournament of Champions, Perez said, in a nutshell, that he's playing the best golf of his career largely because he doesn't care as much as he used to.
So yeah, maybe the key to your golf game is to go out there and just not give a darn (we're keeping it PG-rated here). I also noticed Perez was wearing some fashionable checkered pants on Sunday, so maybe we should all try that too?
Where and When to Watch on TV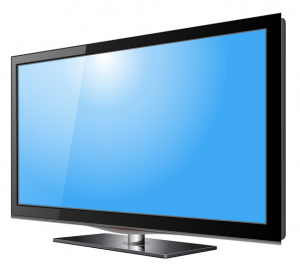 Here is the TV schedule for the 2018 Sony Open in Hawaii:
Thursday 7:00-10:30 pm EST (Golf Channel)
Friday – 7:00-10:30 pm EST (Golf Channel)
Saturday – 7:00-10:30 pm EST (Golf Channel)
Sunday – 6:00-10:00 pm EST (Golf Channel)
Tee Times (All Times are Local)
To access tee times for Thursday and Friday, visit the PGAtour.com link below:
https://www.pgatour.com/tournaments/sony-open-in-hawaii/tee-times.html
Ranking the Field…Our Top 5 Contenders
I lost my crystal ball (so take these picks with a grain of salt), but based on what I've seen so far this year (yes it's very early), and past performance at the Sony Open, here are the top 5 players I expect to shine this week:
5. Tony Finau
While Finau was born in Salt Lake City, he is of Tongan and American Samoan descent. In fact, both his wife and mother are from the Hawaiian Islands, making Hawaii a very special place for Tony.
But this isn't just a ceremonial pick…far from it. Finau is one of the longest hitters on tour, and when the rest of his game is clicking he has the game to go toe-to-toe with anyone.
His lone victory on the PGA Tour came last year at the Puerto Rico Open, but after jumping all the way from 146th in the world in 2014 to a current ranking of 43rd, his game is on the rise, and he'll play his first Masters this year, a lifelong dream realized for the 28-year-old Finau.
4. Russell Henley
Former Georgia Bulldog golfer Russell Henley is probably pretty bummed that his team lost a heartbreaker to Alabama on Monday night, but I'm sure he'll be over it before his tee time on Thursday.
Henley is a great putter, which will certainly serve him well this week at Waialae. Plus, he's a former champion of the event, winning the Sony Open in 2013, which happened to be his PGA Tour Rookie debut.
To say he has "good vibes" when he visits Waialae would be an understatement, and we wouldn't be at all shocked to see him in contention coming down the back nine on Sunday.
3. Marc Leishman
Quick question:
Who do you think is the top-ranked Australian golfer in the world?
Jason Day? Adam Scott?
Nope.
The answer to that would be 34 years old Australian Mark Leishman.
In the last year, Leishman has jumped from 56th in the official world golf rankings all the way to 12th.
If you were to ask players who the most underrated golfer on the PGA tour is, Mark Leishman would no doubt receive a lot of votes. He has three PGA tour victories in his career; two of them coming in 2017 at the Arnold Palmer Invitational, and the BMW Championship. It certainly wouldn't surprise many people in the golf world to see him lifting the trophy on Sunday.
2. Justin Thomas
You can't have a list of favorites this week without including Justin Thomas; you just can't.
Not only did Thomas shoot a 59 at this event last year, he also shot a tournament record -27 under par, and won by a whopping 7 strokes.
Thomas is coming off of a career year in 2017 that included 5 PGA tour victories (including his first major championship).
He ended up winning player of the year honors and was able to finally step out of his good buddy Jordans Spieth's shadow and show the world what kind of golf he is capable of playing.
It would not shock us one bit to see Justin Thomas repeat his 2017 performance and don another Hawaiian Lei around his neck come Sunday afternoon.
Oh, and did we mention that Thomas (a former golfer at the University of Alabama) had a bet with Kevin Kisner (a former University of Georgia golfer) on the National Championship game?
You can get the details of that bet below…
Hey @K_Kisner.. we have a pretty big game coming up on Monday. What you say we put a little wager on this? #RTR pic.twitter.com/7SzVJcowwz

— Justin Thomas (@JustinThomas34) January 7, 2018
And here is Kisner's response…
@JustinThomas34 I accept. Go Dawgs! #KeepTheMainThingTheMainThing #KeepChopping pic.twitter.com/IJ8avIZrGu

— Kevin Kisner (@K_Kisner) January 7, 2018

So…I guess Kisner will be wearing a Bama jersey in the very near future.
1. Jordan Spieth
Throw out the first round last week, and "The Golden Child" had a pretty solid tournament. He rebounded from an opening round +2 over par 75 to finish the tournament in 9th place at 12 under par.
He also shot 19 under par and finished 3rd at the Sony Open last year, so you know he likes this golf course.
What can you say about Spieth? He just makes magic happen. Oh, and things seem to be going pretty good for him off the golf course as well, as he just announced last week that he and longtime girlfriend Annie Verret are now engaged.
And if that weren't enough, according to Twitter he seems to be having a pretty good time with his good friend and fellow PGA tour player Smylie Kaufman:
Kayaking is hard …#TOURVault pic.twitter.com/hNesEG6WWP

— PGA TOUR (@PGATOUR) January 9, 2018
Fun Facts for the 2018 Sony Open…
The Iconic "Palm Tree W" at Waialae
What do you get when you combine $4,000 bucks, 4 palm trees, and a bit of "artistic agronomy?"
You get palm trees behind the 7th green (plays as #16 during the tournament) that are shaped like a big W.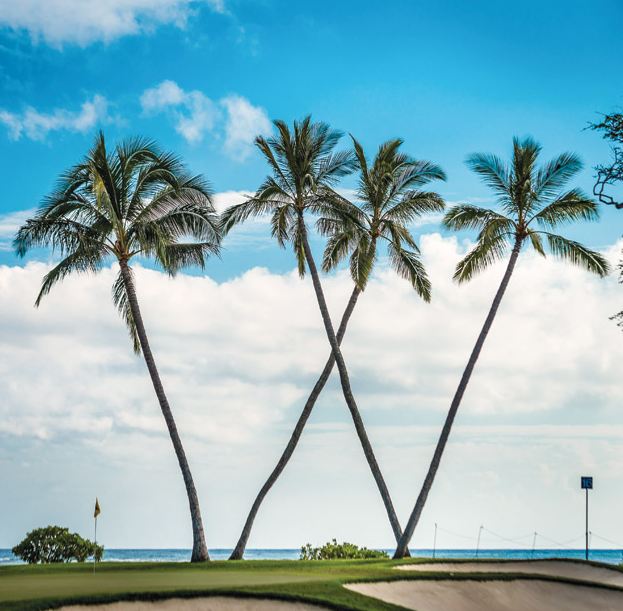 Image Credit: https://www.waikikivisitor.com
This genius, iconic, and quite frankly insane idea was dreamed up by Waialae member Ethan Abbott.
Thanks to some creative work by Superintendent Dave Nakama who planted the trees to grow in the W pattern, it is now one of the most iconic images in the world of golf.
Jim "Bones" MacKay Is Back on the Bag…
Probably the most well-known caddy in the game, Jim "Bones" Mackay spent 25 years caddying for Phil Mickelson before they announced the end of their professional partnership in 2017. The tandem won 5 major championships and 42 titles on the PGA Tour.
Since then "Bones" (as he is affectionately called in the world of golf) has been spending a good bit of his time as an on-course reporter for The Golf Channel and NBC, where his unique insight as an experienced caddy has become invaluable.
This week, however, Bones will step out of retirement and lug one of those monstrous staff bags around once again, this time as the looper for young phenom (and defending champion) Justin Thomas.
While some golf fans may be getting really excited about the thought of a long-term partnership between one of the most experienced caddy's in the game and one of its brightest you stars, it's unlikely that its long term.
Thomas's regular caddy Jimmy Johnson is suffering from Plantar Fasciitis, which makes carrying a golf bag on a hilly golf course an insurmountable task. So, Bones is stepping in this week and says that he is looking forward to working with Thomas.