Play golf in Hawaii for 4 days and have a chance to take home a $1,116,000 winner's check? Sign me up (alas, I should have practiced a lot harder in my younger days)!
Ok now that I'm over my envy for how much these guys make playing a game for a living, let's get on with it. Here is a round by round recap of the 2018 Sony open, played at the beautiful Waialae Country Club on the island of Oahu.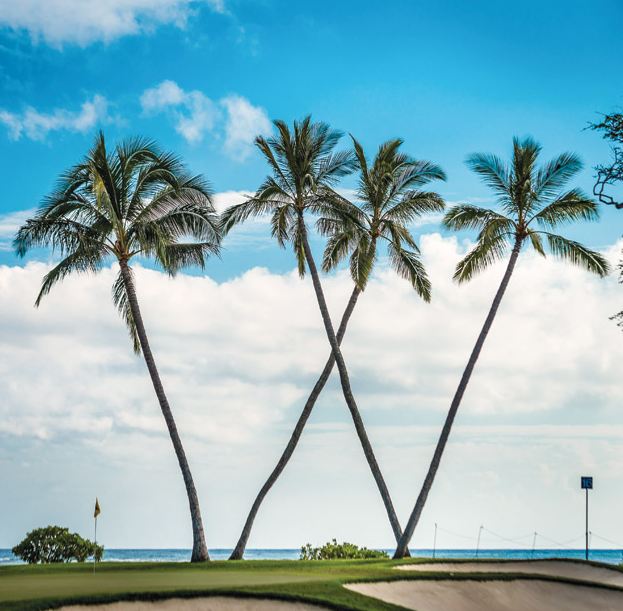 Round 1:
Favorites Entering the Week
Entering the first round of play, good buddies (as well as the #2 & #3 ranked players in the world) Jordan Spieth and Justin Thomas were considered the two favorites, and they both placed decently on day 1.
Spieth managed a 1-under par 69, while Thomas fared slightly better, posting a 3-under par 67.
First Round Leaders
At the end of play on day 1, Zach Johnson and Chris Kirk shared the lead, with both of them shooting 7-under par 63.
What's interesting here is that Zach Johnson has just gotten over the flu, and came to Waialae with few expectations. But you know what they say…"beware of the sick golfer."
Sometimes when you show up with no expectations and just try to put the club on the back of the ball, good things happen (and you don't overthink what you're doing). Kudos to Zach (and Chris) for excellent first rounds.
"Bones" is Back (For One Week At Least)…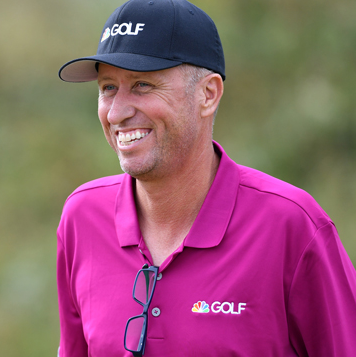 Photo Credit: PGA.com
Jim "Bones" Mackay caddied for lefty Phil Mickelson for 25 years. So, I guess it was understandable when Bones said the hardest part of caddying for righty Justin Thomas this week is setting up on the other side of the ball, and cleaning the other side of the clubs.
It's kinda funny…even caddying comes back to the fundamentals. I bet more recreational golfers would play better golf if they went back to the fundamentals as well!
Interestingly, Justin Thomas compared working with Bones his caddy as a first day of school situation, as he was both excited and nervous.

Round 2:
Brian Harman: The Little Lefty with Big Game
At the conclusion of the second round, Brian Harman was -13, and enjoyed a three-shot lead after firing rounds of 64-63.
While many casual golf fans may not be too familiar with Harman, the lefty was a standout junior golfer (winning the 2003 U.S. Junior Amateur), and then went on to have a solid career at the University of Georgia as a three-time, second-team All American.
Face it, we're a little spoiled these days with all of the "young guns" in their early 20s like Spieth, Thomas, and Rahm winning so many golf tournaments.
Harman is 30 years old, married, and is now a father to a beautiful little girl. He's in a good place in his life and might be a bit of a "late bloomer" to keep an eye out for over the next few years.
Five-Way Tie for Second
Harman may have a three-shot lead, but he's got five guys right on his heels at -10.
I won't be surprised if Zach Johnson, Chris Kirk, John Peterson, Tom Hoge, or Taylor Gooch shoot something in the 63 or 64 range tomorrow, and if they do that Harman is going to have to keep the pedal to the metal to maintain his lead.
Jordan Spieth Makes a 90-Footer
You've probably gone an entire round (I know I have) and failed to make a 9-footer, but not Mr. Spieth. In round 2, Jordan drained a putt that ShotLink measured at just over 90 feet.
.@JordanSpieth's 90'8" made putt was just the 12th registered make of more than 90 feet since the Tour began using ShotLink data in 2003.

— Justin Ray (@JustinRayGC) January 13, 2018
Random…The Ryder Cup is Named after Samuel Ryder (and There's Now a Sam Ryder on Tour)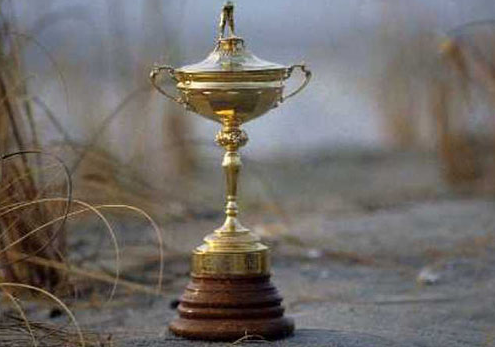 Photo Credit: Rydercup.com
What does this have to do with the Sony Open? Not much.
However, there's a PGA Tour rookie with one of the coolest golf names ever…Sam Ryder.
Sure, he probably won't make the Ryder Cup this year, but we have to root for him to make it sometime in the future…because that would just be a really cool story.


Round 3:
The Ballistic Missile False Alarm
The main event at Waialae Country Club on Saturday certainly wasn't the golf.
It seems that someone got a little trigger happy with the text message alerts, and managed to send out an emergency ballistic missile threat message.
While players had a variety of reactions (including some that made frantic phone calls to loved ones), we particularly thought that Justin Thomas and John Peterson's reaction appropriately captured both ends of the spectrum.
Here's what Peterson tweeted: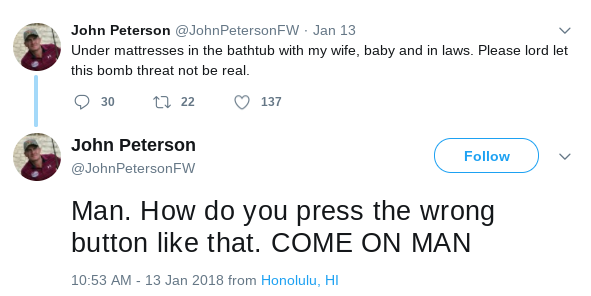 On the other hand, Justin Thomas said "I was like if it's my time, it's my time. There's really nothing I can do."
So we learned that even under the threat of getting hit by a ballistic missile, Justin Thomas is one cool cucumber.
As a side note, I hope whoever was responsible for sending that message gets a stern talking to…I agree with John Peterson…come on man.
But the Golf Was Good Too…
After everyone realized that Armageddon on Oahu was not imminent, the focus turned back to the golf to be played at Waialae.
Patton Kizzire started his round with a double bogey but then decided he, in fact, did want to stay in contention going into Sunday and played the rest of his round bogey-free, including eight birdies, leaving him one off the 3rd round lead, held by Tom Hoge.
So Who is Going to Win?
There's a slew of players close to the lead, so it's really anyone's ball game.
That being said, I'm going to say Kizzire wins and picks up his 2nd career PGA Tour victory. The 31-year-old Kizzire seems poised for a breakout year, and it starts this week.
Round 4:
My NFL Confession
I'd love to tell you that I stayed glued to the Sony Open all evening, but the truth is that Saints/Vikings game was pretty epic, so some of my TV time went to the NFL.
Fortunately, they finished up earlier, so the end of the 4th round got my full attention.
James Hahn Shoots 62 to Take the Clubhouse Lead
James Hahn came out Sunday guns blazing on his way to an 8-under par 62, which was the lowest round of the week at Waialae.
Patton Kizzire and James Hahn Playoff
72 holes were not enough to decide the 2018 Sony Open. Hahn posted early and had to play the waiting game, while Kizzire played in the last group, and actually had a 15-footer on the 18th green to win the tournament.
Kizzire missed the putt, meaning a playoff between Kizzire and Hahn would ensue.
1st Playoff Hole
Kizzire made a mess of the first playoff hole but managed to salvage a par, while Hahn had a 10 footer for birdie to win the tournament. Hahn barely missed, and the pair returned to the 18th tee for a 2nd playoff hole.
2nd Playoff Hole
Long story short, both players birdied the 2nd playoff hole.
Both of these guys want to get their hands on the trophy. Hahn had a 30 footer for an eagle that barely missed, while Kizzire made a clutch 6 footer for birdie to extend the playoff.
3rd Playoff Hole
After playing the par 5 18th twice, Hahn and Kizzire headed back to the 17th tee, where they both made par.
We Finally Got a Winner (On the 6th Playoff Hole)
While Kizzire snuggled his birdie putt up into near gimmie range, Hahn had a tricky left to right six-footer to save par and wasn't able to make it.
So after 6 playoff holes, we finally got a winner. Congrats to Patton Kizzire on his 2nd PGA tour win of the season!
Our Picks this Week Weren't Very Good
Not the worst picks this week, but certainly not the best. To recap, these were our top 5 picks at the beginning of the week, and how they finished:
Tony Finau: -9 (T-32nd)
Russell Henley: CUT
Mark Leishman: -7 (T-47th)
Justin Thomas: -12 (T-14th)
Jordan Spieth: -11 (T-18th)
Justin Thomas was the best of our picks, closing with a 68 to post 12 under par for the week. It's a top-15 finish, but certainly not what a player of Thomas's caliber was hoping for this week.
After his round, Thomas said he played pretty well but needs to work on his distance control with his wedges and short irons.
Preview of Next Week
This coming week the PGA Tour heads to the Stadium Course in La Quinta, CA for the CareerBuilder Challenge.
The field will be headlined by Phil Mickelson, Jon Rahm, Patrick Reed, and a host of other players looking for their first win of the season. Hudson Swafford is the defending champion.